Since becoming the first blind person to climb The Old Man of Hoy in 2013, I have not been idle – and have continued to climb at every opportunity.
At home in London, I've had the pleasure and support of training at The Castle – the best indoor climbing centre I have ever used. And, recently I've been lucky enough to work with the amazing Louis Parkinson of Catalyst Climbing.  Under his guidance I have gone up a grade in a matter of weeks!
Outdoors I've bagged The Old Man of Stoer and various other, mostly coastal, climbs in Dorset, East and West Scotland and Sardinia. But one climb has eluded me…
Am Buachaille is one of Scotland's 'Big Three' sea stacks. In fact no less a mountaineer than Hamish MacInnes describes it as 'the most serious of the big three''.
It's a glorious spearhead of Torridan sandstone rising 65 metres (213 feet) vertically out of The Atlantic at the Southern tip of Sandwood Bay, in the far North-West of Scotland.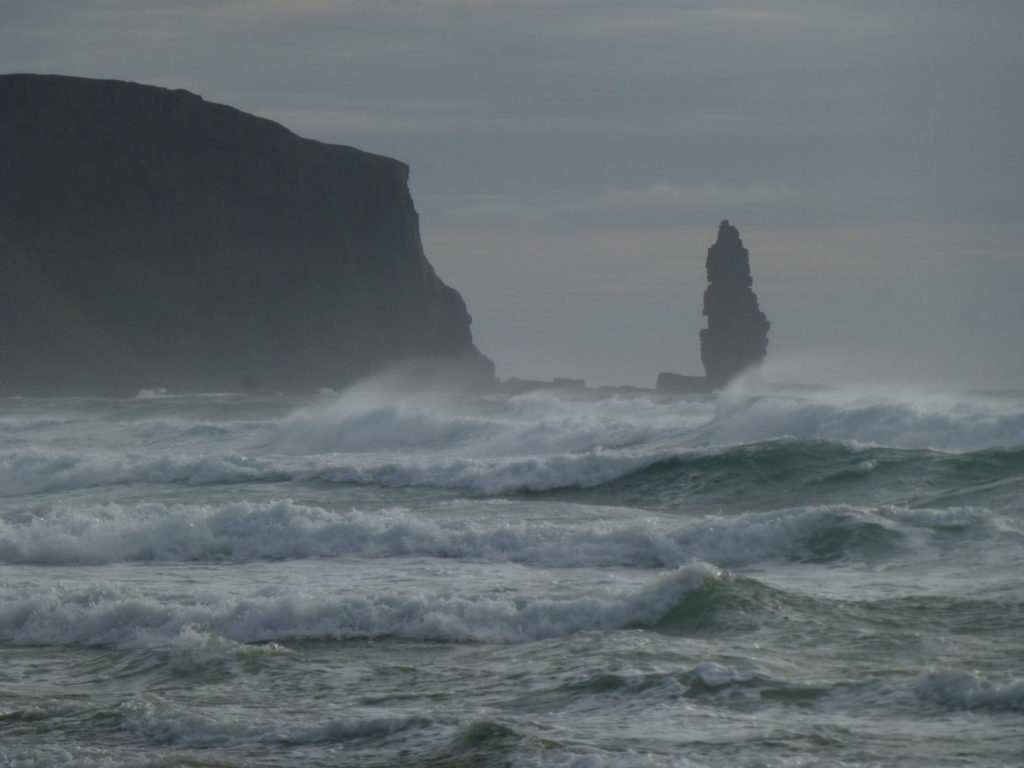 The first ascent of Am Buachaille was made in 1968 by one of my great heroes, Tom Patey, with John Cleare and Ian Clough.  Patey was something of a sea stack specialist, putting up first ascents of most of the Scottish ones worth climbing, including the others in 'the big three' – The Old Man of Stoer and the big brother of them all, The Old Man of Hoy.  He died in May 1970, abseiling off The Maiden, in Sutherland Bay.
The original route is graded HVS, with a 5b crux, and gets a 1-star rating. UKC also lists another four routes, ranging from a 3-star VS 4C to an E2 5b.
But the grade is not the major challenge of this project…at least not for me.  Just getting there involves a ten-mile yomp over land dotted with bogs and lochans.  Next there's a 200-foot descent down the cliff to the toe of the headland, then 'a short swim' (according to UKC) of up to 30 metres depending on how low low tide is.  After that my climbing partner Matthew and I will have about 90-minutes to complete the climb and get back to shore before the tide cuts us off.  At high tide neither the swim nor a Tyrolean is an option.  And much as I like Matthew I don't particularly fancy spending the night with him, bivvying above The Atlantic!
At this point non-climbers often ask why I want to make my life so difficult; couldn't I find something less 'out there' to do?  If they think I'm mad they must regard Matthew as certifiable for encouraging and accompanying me. So why do we do it?
Well, in the case of Am Buachaille I must admit there is an element of unfinished business. Having climbeded Hoy and Stoer I want to complete the set.
However my, and Matthew's, desire to undertake this project runs deeper than that.  It's far more about challenging peoples' perceptions of blindness.  If my return to climbing has taught me anything, it is to focus on what I can achieve rather than seeing only what I have lost.
Sight loss need be no barrier to adventure. But I'm not blind to the additional challenges it presents, which is why we are proposing to tackle Am Buachaille in a unique and novel way: making it an extreme blind triathlon.
Since I find the walk-in one of the most exhausting and hazardous parts of any climb (even when it's not boggy) we plan to cover the 10 miles to the headland on a mountain bike tandem.
I've got one from when I and two friends rode the 100-mile length (and 10,000-feet of hill climbs) of The South Downs Way.  Practically the whole route was off-road and on the downhill stretches we reached speeds of up to 50mph.  It took two days, with my companions taking turns piloting the tandem or riding ahead to open gates and warn on-coming ramblers!
Matthew will pilot it to the cliff edge, then guide me down to and across the channel to the base of Am Buachaille.  We are both year-round wild swimmers (no wetsuits!) and take part in events like The Big Chill Swim in Lake Windermere, in February!
With the mountain biking and the swim done, we'll merely need to complete the climb…against the clock.
That's the plan, but so far the logistics have held us back.  Just getting our kit up there from London is a nightmare; you can't transport a tandem on a train and there's no airport nearby.  We couldn't justify the time or money necessary to give us a decent chance of success.  But then my boss at RNIB Connect Radio sent me a link to The Holman Prize.
Launched in 2017 by the San Francisco LightHouse For The Blind to 'support the emerging adventurousness and can-do spirit of blind and low vision people worldwide…the Prize provides financial backing for three individuals to explore the world and push their limits…to savor the richness of a world that is so often thought of as inaccessible to the blind.'
The Prize begins with a challenge: blind applicants must submit a first-round pitch in the form of a 90-second YouTube video. So here it is… I hope you enjoy it!
If you do like it, then please 'like' it on YouTube.  The video with the most YouTube 'likes' automatically goes through to the next round, in which semi-finalists submit a detailed written proposal.  So, feel free to forward it to your friends and family too! It could change how people see blindness.