There's something about coastal climbing that really does it for me.
Maybe it's because I grew up near the sea, in Sussex.  Or maybe it's the association with childhood holidays that often began with a ferry trip from Portsmouth or Dover.
Certainly those trips led to a fascination with coastal rock formations.  I'd stand on deck goggling as the White Cliffs receded behind us or as we slid past The Needles. Even as a little boy I wanted to climb them.
Fortunately for my parents most of our seaside holidays were spent at the foot of sand dunes so my juvenile climbing exploits always had soft landings. But my desire to try something harder didn't leave me. So when, in the early 1980s, I watched a documentary about Chris Bonington and saw footage of him climbing The Old Man of Hoy, the seed of my desire began to germinate.
Like thousands of other kids I'd followed Bonington's adventures on Blue Peter. But the snow-capped peaks of The Himalayas were an alien world to a boy who'd never even been skiing.  But here, with this giant sea-stack in The British Isles, was something I could aspire to.
As soon as I was old enough I joined the Army Cadets at school, suffering a year's square-bashing for the promise of a week's climbing instruction in the Welsh Mountains the following summer.  That week convinced me that I had found my sport.  Soon I was heading off to Harrison's Rocks in Kent and testing myself on sandstone.  I was hooked.
Unfortunately back in the 1980s I didn't have access to indoor climbing like The Arch; so the season was short and subject to the fickle British weather.  Somehow it always felt like I'd only just got into peak condition when the summer holiday's ended and autumn began.  Still I bagged some decent routes on the sea-cliffs of Swanage, Portland and Pembrokeshire…but never made it up to Hoy.
Then, aged 19 I was told I was going blind and my life went into free-fall.  After a brief and hair-raising flirtation with night-time buildering at university I hung up my harness and for two decades put away my dreams of climbing anything ever again…
…until eight years ago when my daughter decided to have her birthday party at a climbing wall.  I saw my way back in and began making up for lost time.  I bagged the Old Man of Hoy in 2013.  At 137m (449ft) it's Europe's tallest sea-stack.
Having bagged a few other routes on my bucket list my climbing partner Matthew and I now spend the indoor climbing season preparing for the next coastal challenge…that way we can make the most of the outdoor season.  We do most of our training at Arch North in Colindale (with a bit of high-wall practice thrown in elsewhere to maintain our rope skills),  After a couple of hours bouldering we'll head to the pub next door to plan our routes for the next climbing trip.
This winter we were getting in shape for an attempt on Europe's second tallest sea-stack, Pan di Zucchero in Sardinia.  At 133m it's only a little shorter than The Old Man of Hoy.  But lying 2km offshore in the middle of Masua Bay it forms a beautiful island of white limestone that is just as dramatic.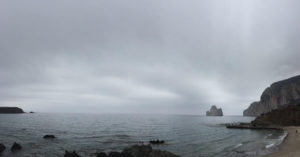 Like many routes in the area it's bolted, which is good for me as my trad skills are definitely something that departed forever with my blindness.  It means I can do a bit of lead climbing, although realistically for my own safety and Matthew's nerves we've found that attempting anything more than an F5c is inadvisable.
The hardest pitch on Pan di Zucchero is graded F6a+. With neither Matthew nor I getting any younger and both of us having family and work commitments, that meant packing a lot of practice and planning into the evening each week we meet to climb.
Luckily The Arch North is close by and has enough wall-space that we don't waste time queuing.  It's also a hub for climbers who are always happy to pass on tips and advice.  We knew that the hard white limestone in Sardinia is dotted with sharp little pockets and tiny nubbins so worked on finger strength and footwork, especially rockovers.  We also made time for some thuggy overhangs in preparation for a couple of meaty crux moves.
So we felt in pretty good shape by the first week in May when we flew out to Cagliari with our ropes and quickdraws.  Unfortunately our arrival coincided with that of the maestrale – a strong, cold north-westerly wind that was gusting up to 50mph and creating 1.5m waves making the sea crossing to Pan di Zucchero, let alone any attempt on it, impossible.
Fortunately there's loads of climbing out there and it was easy to find some cliffs in the lee of the wind. We bagged some excellent single-pitch routes at Castello dell Iride and a clutch of truly stunning multi-pitch climbs further round Masua Bay.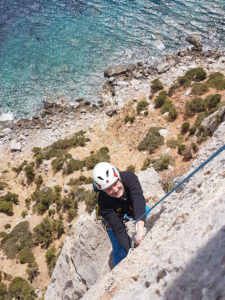 There's a wide range of grades from beginner to full-on 'in-my-dreams' stuff.  And all the sport routes are really well maintained.  Without being as busy as, say, Swanage there were plenty of other climbers out there, from all over Europe. Some dirt-bagging; others staying in B&Bs or, like us, in one of the lovely villas that dot the hills overlooking the coast.  If you can get a group together I'd recommend where we were, www.casafigus.com – it was a great place to chill after a hard day's climbing and it also had sea kayaks we could use to explore the amazing rock formations that line the coast.  The food, the people and the scenery (according to the others in the group) were wonderful.  And as for the rock…that hard, white limestone is a dream to climb on.  Just remember to check your shoes beforehand, you'll need all the smearing you can get!
The sea was like a mill-pond as we drove back to the airport past Masua Bay; wind-speed 2kmh.  Typical! Was I disappointed not to bag Pan di Zucchero?  Yeah…but I had a great climbing trip, and it's still waiting for me. And like Arnie…'I'll be back!'